Many students dream of studying in Canada as it offers top-notch courses. However, the student visa application process for Canada begins with receiving an admission offer from a Canadian university; you need a study permit to study at a Designated Learning Institution (DLI) in Canada and a student visa to stay in Canada.
As an Indian student, there are many reasons to study in Canada. Suppose you are applying for your study permit or temporary resident visa. In that case, you do not need to submit your biometrics with your visa application, and you are eligible for the Student Direct Stream.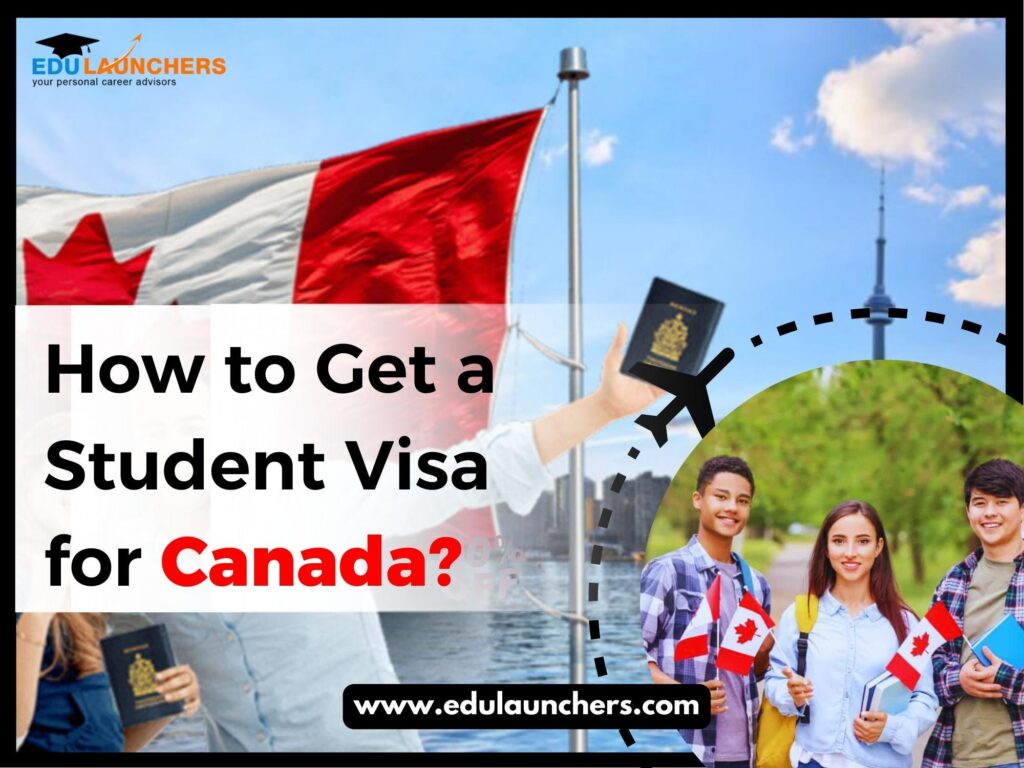 What is a Student Visa?
As the name suggests, a student visa is issued to applicants whose primary purpose for travelling abroad is to pursue education. While getting into university is of the utmost importance, these legal documents stand in the way of all your goals. The immigration laws of every country are different. These can be acceptable for different proofs of funds different in terms of document requirements that all visas will let you do in addition to studying in the country. Also, all student visa applications share some broad similarities.
Requirement for Canada Study Visa
Acceptance letter: You must have a letter of acceptance from a designated learning institution (DLI) in Canada.
Proof of financial support: You must show proof that you can support yourself financially while studying in Canada. This includes living expenses, tuition fees and return transportation.
Language proficiency: You may need to take an English or French test to demonstrate your language skills.
Medical exam: You may need a medical exam to prove healthy.
Police clearance certificate:You may need to provide a police clearance certificate from your home country or any other country where you have lived for more than six months.
Immigration medical examination: You may need to undergo a medical examination to ensure that you meet the health requirements for entering Canada.
Biometrics: You may need to provide biometric information, such as fingerprints and photographs, as part of the application process.
Application fee:You must pay the application fee when submitting your application.
Canada student visa process
After applying, the individual needs to complete additional verifications. This includes giving biometrics to officials. The applicant must provide their biometrics within 30 days of receiving the official letter. It must be mentioned that if the application was filed online, the letter is sent through mail within 24 hours of applying. If the application form was filed on paper, the letter is dispatched to the address mentioned in the application form within two weeks.
Once the biometrics are submitted, the application process starts. If the application is approved, the authorities will send an identity card and an Electronic Travel Authorization (eTA) or a temporary resident visa to enter Canada, which must be shown to an immigration officer upon your arrival in the country. If the application is rejected, a letter will be sent explaining the reasons for the rejection.
Application Process for Study Visa Canada
Before applying for Student Visa in Canada, you must check the Canada student visa processing time, which can vary from 3 to 4 weeks. This will help you determine how soon you should apply for your student visa to Canada.
Check whether you meet the eligibility requirements for a study permit, and if so, have the documents ready before starting the Canada student visa application process.
Apply for Student Visa Canada online or in person at the VFS office. If you are applying for Canada Study Visa online, you must scan all the documents and apply offline at the VFS office. Then, you have to submit copies of all the documents.
Pay the Student Visa Canada Processing Fee. If your spouse and children are moving to Canada with you, you must pay their processing fee separately.
Submit your Student Visa Canada application in person at the VFS office. You will get an acknowledgement with a unique tracking number which you can use to check the progress of your application.
You must submit your passport once your Canada Student visa application is approved. The Government of Canada will give you an identity card which you must submit to the Government of Canada officials once you reach the border. In addition, government officials will give you a Canada Study Permit before you enter Canada.
Student visa Canada cost
The cost of a student visa for Canada is approximately 150 CAD. The fee will depend on your country of origin and the university you are enrolled in.
Visa fees can be paid online or offline, depending on the mode of application. However, it has to be paid at the time of application.
This does not include the Visa Application Center (VAC) service fee. The visa service fee depends on the region from where you are applying.
After your study visa for Canada application, you must submit your biometric fee, which comes up to 85 CAD, in addition to the Canada student visa fee. This is paid before the VAC takes your biometrics.
The Application Process for a Canadian Student Visa
This section will walk you through three simple steps to apply for a student visa in Canada. Depending on your home country and other factors, these steps may vary slightly, but the ones below will still serve as a helpful starting point.
Check processing time. Ensure you are eligible for the Student Direct stream, as this will reduce your waiting time to just 20 calendar days. You'll have to go down the normal route if you don't meet the required specifications. Processing times for this will vary depending on your application type and the temporary residence application you choose, so look at all processing times with the Government of Canada. For example, you can wait up to 10 weeks if you apply for a study permit outside Canada. From within Canada, it may only take four weeks.
Match your documents. Ensure you have all the correct documents readily available before you apply, as this will help make the application process more seamless and reduce the risk of delays. Read our 'Eligibility Requirements and Documentation' section above for more information.
Apply Online. The last step of the process. If you have a disability that prevents you from applying online or have documentation stating your identity as a refugee, you can apply on paper. Here you must book your biometrics collection appointment (if applicable).
After this, your application will be processed. At this point, it is a waiting game to hear whether you are successful. If the application is classified as incomplete, it will mean reapplying.
Need a study visa consultant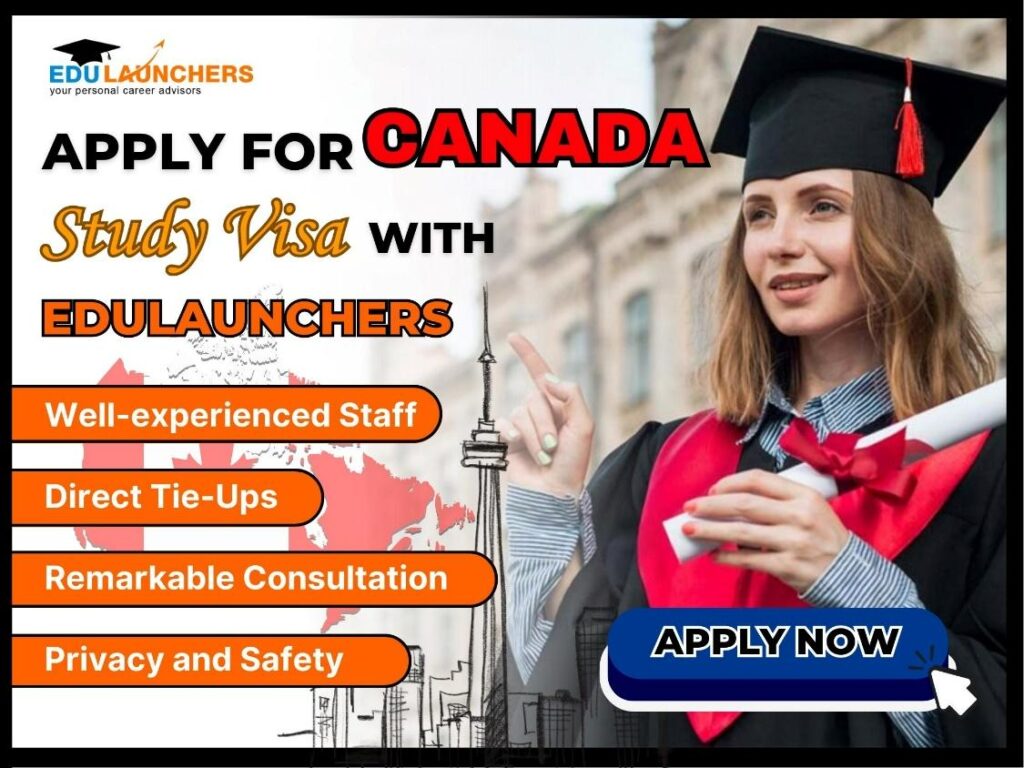 Getting a Study Permit or Canada Education Visa may sound simple with the steps mentioned for applying online through the study portal. Still, due to a lack of correct and objective knowledge, mistakes may occur, due to which the application may face rejection.
A Canada Study Visa Consultant will ensure that you feel comfortable enrolling in your desired education in a country miles from your own; it starts with providing a student with proper counselling and providing them with accurate information. Various beneficial services include coursework, application and admission to preferred colleges/universities, and post-landing facilities.
Canada Student Visa Consultants help you by providing realistic guidance by informing you of the various options available to start your journey in the new land.
Why Edulaunchers? – The Best Canada Student Visa Consultants
Apply for your Study Permit in Canada through Edulaunchers to minimize the difficulties and ensure your dream comes true.
Through all the above details, studying in Canada as an international student seems confusing and stressful. Edulaunchers is here to help you keep the student visa to Canada process simple:
Our professionals will guide you from start to finish in applying for a study permit in Canada.
We can assist you if you are looking for a program that fits your needs.  Edulaunchers helps to enhance your chances of studying in Canada.
We guide the students to identify and apply for the right course in an assigned institute better suited for their lives and careers.