The United Kingdom (UK) is renowned for its prestigious universities, rich cultural heritage, and diverse academic opportunities, making it a popular study destination for international students, including Indian students. This comprehensive guide will explore the various aspects of studying in the UK, including universities, courses, costs, visa requirements, and more.
Studying in the UK offers numerous advantages for Indian students:
Academic Excellence: The UK is home to some of the world's top-ranking universities known for their academic rigour, research opportunities, and quality of teaching.
Wide Range of Courses: UK universities offer diverse courses across various disciplines, providing students with ample choices to pursue their academic interests.
Global Recognition: UK degrees are globally recognized and highly valued by employers, enhancing career prospects and opening doors to international job opportunities.
Cultural Experience: Studying in the UK provides a multicultural experience, exposing students to a rich blend of cultures, ideas, and perspectives worldwide.
Research Opportunities: The UK is at the forefront of groundbreaking research in various fields, offering students the chance to contribute to cutting-edge advancements.
Support for International Students: UK universities provide comprehensive support services for international students, ensuring a smooth transition and a fulfilling academic journey.


"Experience hassle-free visa processing and personalized guidance with our study visa consultants."
Study in the UK for Indian Students
Indian students find the UK an attractive destination for higher education due to several reasons:
Strong Educational Heritage: The UK has a long-standing tradition of providing high-quality education, attracting students worldwide.
Cultural Familiarity: A significant Indian diaspora in the UK provides Indian students with familiarity and a supportive community.
Scholarships and Financial Aid: Many UK universities offer scholarships, grants, and bursaries specifically for international students, including Indian students, to help with tuition fees and living expenses.
Work Opportunities: Indian students can work part-time (up to 20 hours per week) during term-time and full-time during holidays, providing opportunities to gain valuable work experience and support their living costs.
Post-Study Work Options: Upon graduation, eligible students can apply for the Graduate Route, allowing them to work in the UK for up to two years (three years for PhD graduates) and explore career prospects.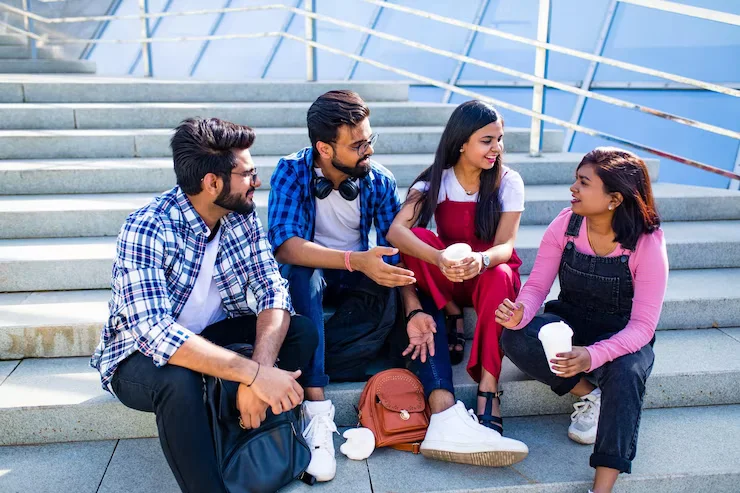 Cost of Studying in the UK for International Students
The cost of studying in the UK varies depending on factors such as the university, location, course, and duration. UK students must pay a fee of £9,250 per year to study at prestigious English universities. You must pay anywhere between £10,000 to £38,000 for other degrees.
| | | |
| --- | --- | --- |
| S.No | University | Average Tuition fees (GBP) |
| 1. | University of Bolton | 11,250/year |
| 2. | Leeds Beckett University | 14,000/year |
| 3. | University of Greenwich | 15,100/year |
| 4. | University of Stirling | 16,775/year |
| 5. | University of Chester | 12,950/year |
| 6. | Teesside University | 13,000/year |
| 7. | University of West London | 13,250/year |
"If you have any queries about your course or visa-related issues, get in touch with the Best UK Student Visa Consultant!
"
Popular Universities in the UK


Queen Mary University of London

The University of Manchester



University College London

University of Nottingham, Nottingham, England
Courses to Study in the UK
Requirements to Study in the UK for International Students
To study in the UK, international students, including Indian students, generally need to fulfil the following requirements:
Academic Qualifications: Meet the academic requirements specified by the chosen university or institution for the desired course of study. This may include completing 12th standard education or an equivalent qualification.
English Language Proficiency: Most universities require proof of English language proficiency. The International English Language Testing System (IELTS) is commonly accepted, although some institutions may accept alternative English language tests such as TOEFL or Pearson Test of English (PTE).
Visa Requirements: Apply for a Tier 4 (General) student visa. This involves offering admission from a recognized UK institution, proof of financial capability, a valid passport, and meeting the English language requirements.
Financial Capacity: Demonstrate sufficient funds to cover tuition fees, living expenses, and healthcare costs. The specific financial requirements vary depending on the duration and location of the course.
Health Insurance: Obtain comprehensive health insurance coverage for your studies in the UK.
Why Choose EduLaunchers for Studying in UK?
At EduLaunchers, we believe in making the journey towards higher education abroad as smooth and stress-free as possible. As part of the Edulaunchers family, we are proud to be a one-stop shop catering to every student's needs. Our team of experts will help match a student's academic profile, preferences, budget, and career aspirations to the perfect study abroad opportunity. We provide counselling and guidance on immigration as well, completely free of charge. We are passionate about helping students achieve their dreams and are committed to making the process as easy and seamless as possible. Let us help you make your dreams a reality!
Recently Graduated Students
Need guidance? Let us help you.