Open the doors to a global career with an international degree!
If you have the dream, EDULAUNCHERS has the way
India's Trusted & Reliable Study Abroad Consultants
🔔Edu Alert🔔
📢SAIT College MAY'24 OPEN Programs
📌Postgraduate Professional Certificate – Product Management (Non-Credit)
📌Technical Background student will get Prefrence(B.Tech, M.Tech, Bsc(IT), Msc(IT))
📌No Gap, No Backlog issue
📌Postgraduate Professional Certificate – Supply Chain Management (Non-Credit)
📌Any Background with 60% score
Ielts – 6(6)
No Gap, No Backlog issue
For more information Contact us at -
- 076969 97629
Mail Us: info@edulaunchers.com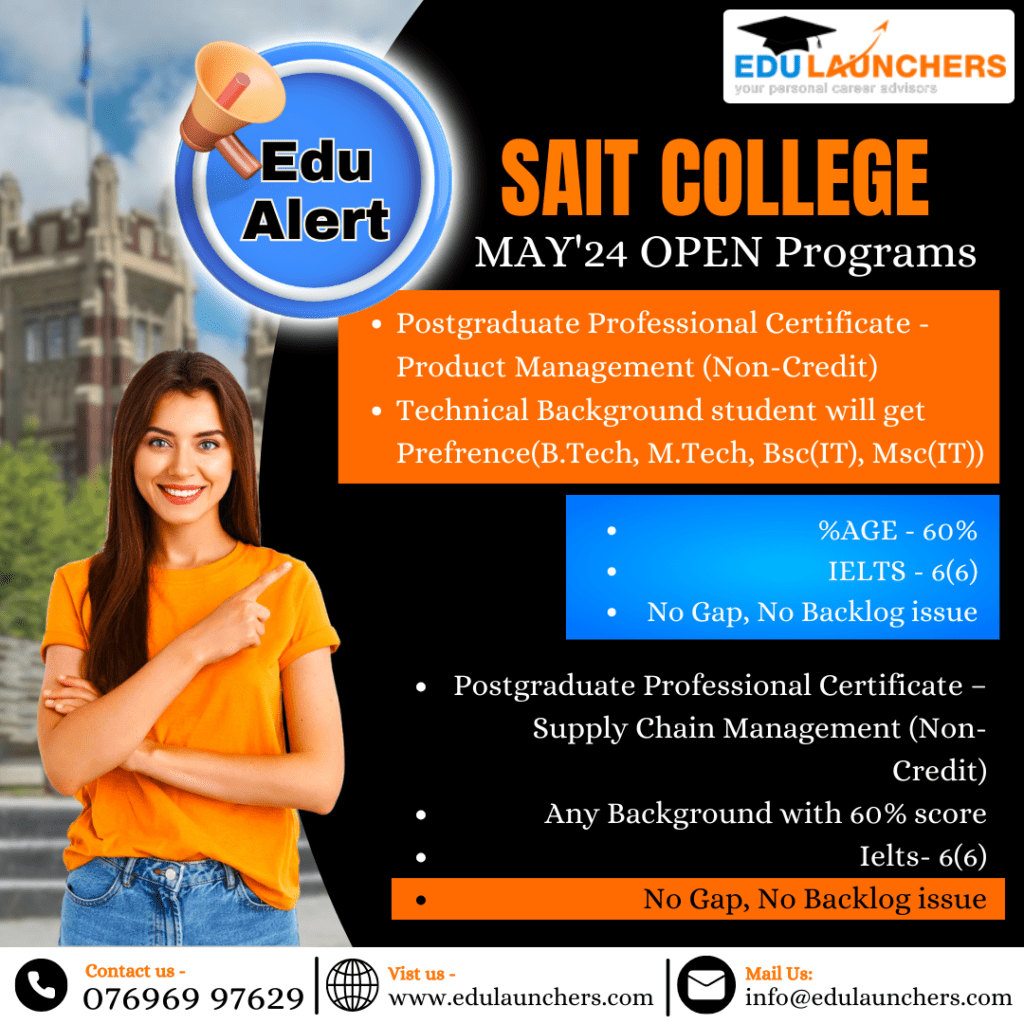 🔔Edu Alert🔔
📢UK focus schools with OL TAT within week


📌Coventry University
📌The University of Law
📌Bangor University
📌University of Hertfordshire
📌University of Greenwich
📌London Metropolitan University
📌De Montfort University
📌Edinburgh Napier University
For more information Contact us at -
- 076969 97629
Mail Us: info@edulaunchers.com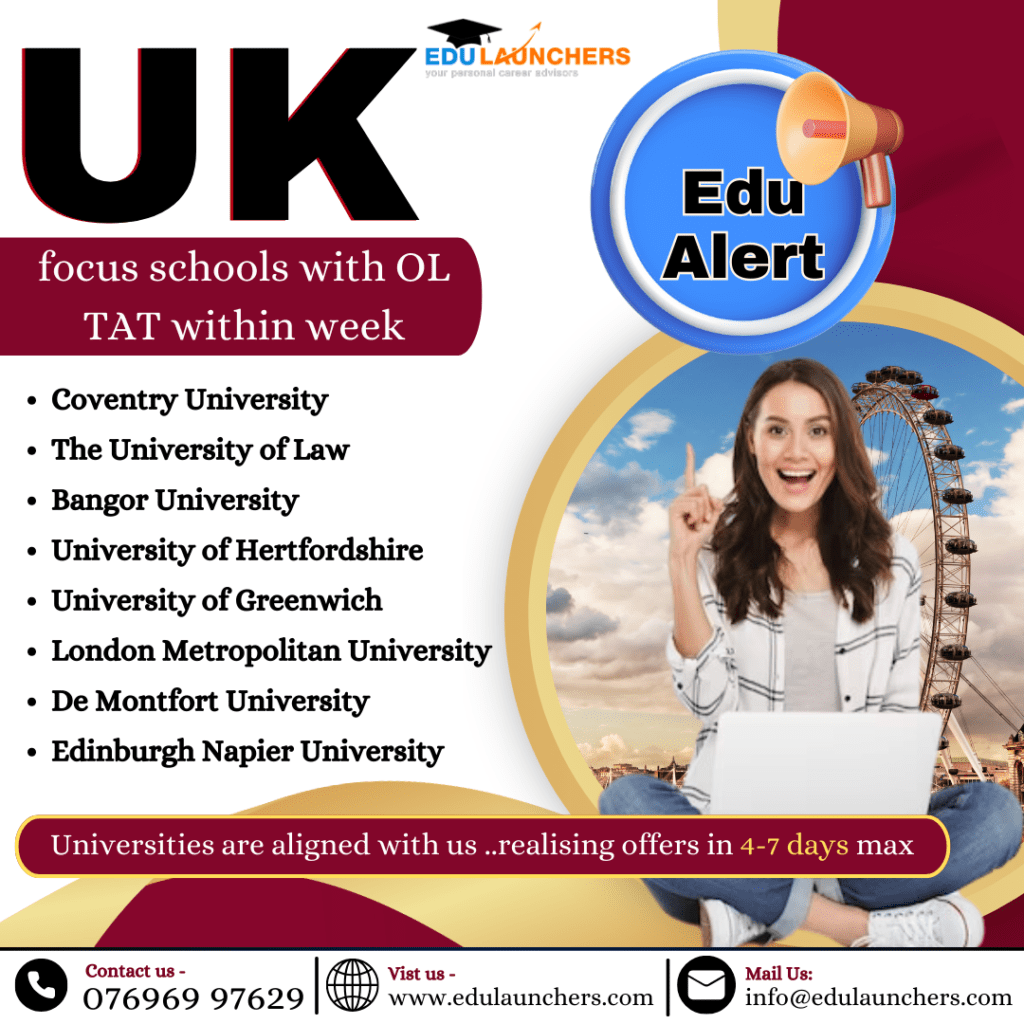 🔔Edu Alert🔔
📢Canada Update
👉Fleming Toronto open for May 24 intake👈
📌College Diploma – Business (BNT)
📌Graduate Certificate – Global Business Management (GBT)
📌Graduate Certificate – Project Management (PRT)
📌Graduate Certificate – Supply Chain Management – Global Logistics (SCT)
📌Graduate Certificate – International Business Management (IBT)
For more information Contact us at -
- 076969 97629
Mail Us: info@edulaunchers.com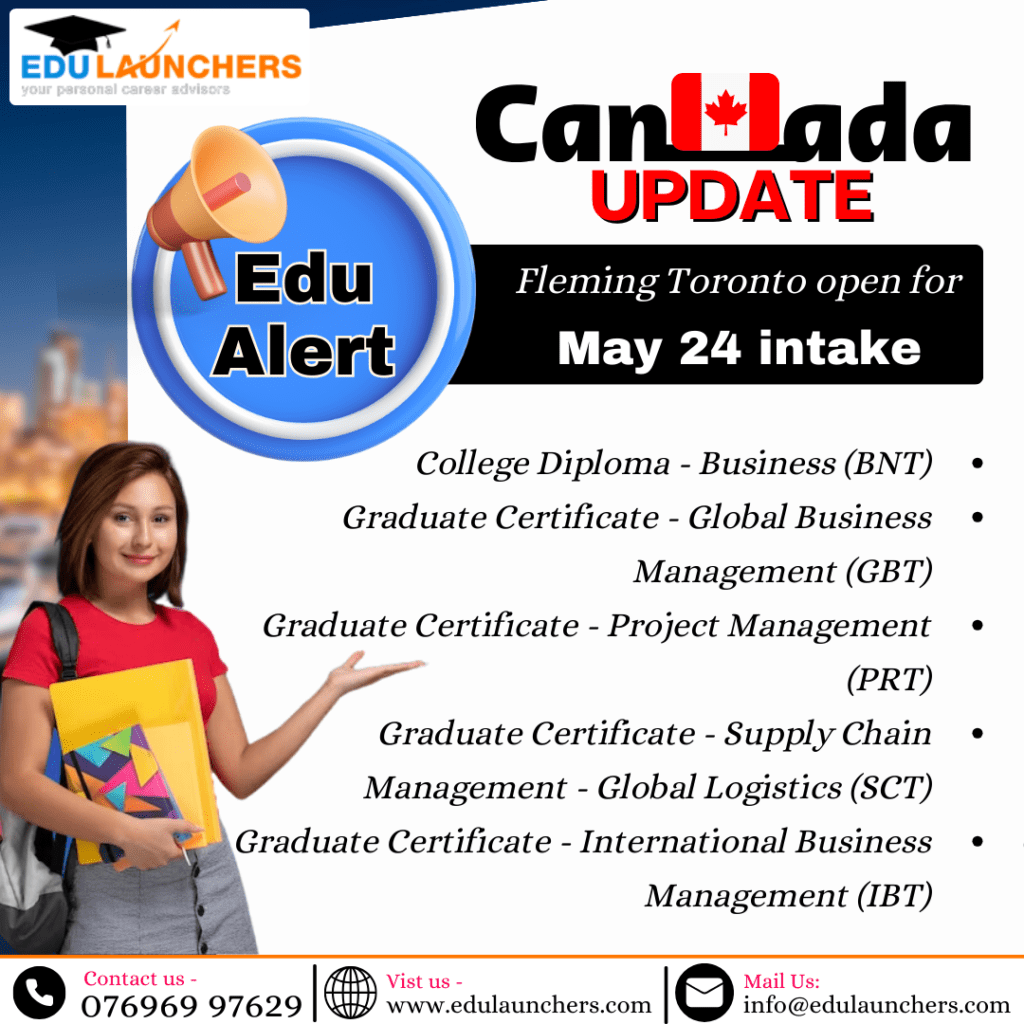 📢Breaking Alert
Crandall University is offering students an application fee Waiver for the May 2024 Intake.
A few more details about the waiver:
📌This application fee waiver applies to the Master of Management and the Master of Organizational Management programs.
📌This is a 100% application fee waiver.
📌This Waiver will expire on 8th September 2023
(Note: Waiver will be set to expire two business days before school's deadline date so that any subsequent applications are submitted on time).
✅Only for students applying through ApplyBoard
For more information Contact us at -
- 076969 97629
Mail Us: info@edulaunchers.com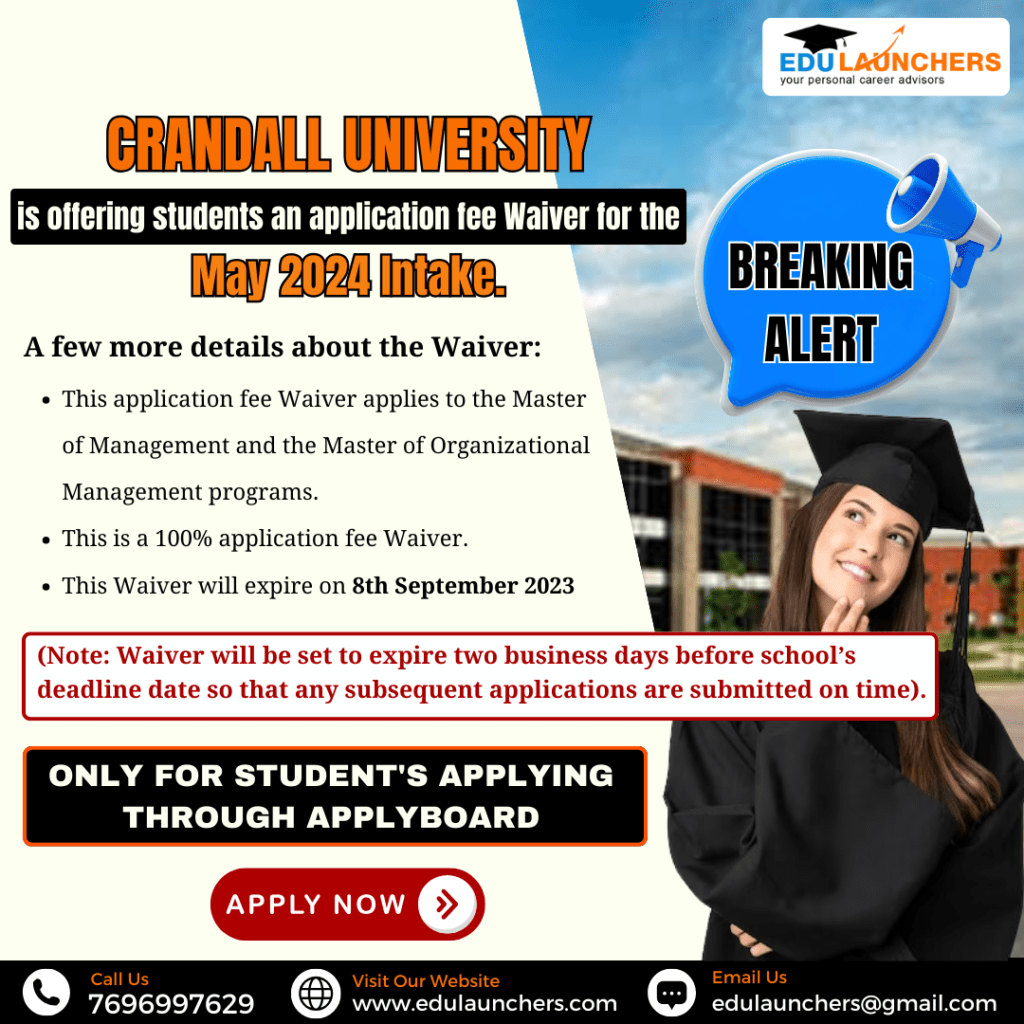 📢Breaking Alert
UK NOVEMBER intake available
University of Roehampton has launched November 2023 intake for the below programs:
👉MBA
👉MSc Global Business Management
👉Induction starts: 9th November 2023
👉Teaching starts: 13th November 2023
👉Late arrival date: 20th November 2023
For more information Contact us at -
- 076969 97629
Mail Us: info@edulaunchers.com
Top Universities
Search colleges & universities by country
Country Guides
What, where, why of education across countries
Popular Courses
Course details, structure, pre-reqs & more...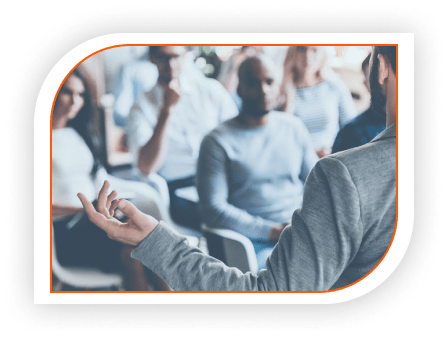 Solution Focused Counselling
Student Satisfaction Rate
Recently Graduated Students
Australia is one of the most popular study-abroad destinations, and Indian students have been steadily increasing since visa regulations have been relaxed, making it easier for students to pursue higher education at prestigious universities. Australia's universities provide internationally recognized degrees, vibrant towns, student-friendly guidelines, and high living standards. .
Canada has become one of the most popular destinations for study for Indian students. In recent years, the number of students moving to Canada for higher education has increased dramatically. Canada has a strong education system, with degrees and diplomas available in various disciplines. In addition, Canada has a lower education cost than the United States..
Indian students wishing to study in Ireland are offered the opportunity to study at some of the best universities in the world. The pillars of tradition, religion and history at the core of Ireland's culture cumulatively play an essential role in everyday life and the nation's self-perception.
Studying in New Zealand perfectly integrates high-quality education, life and employment opportunities for overseas students. New Zealand's qualifications have a reputation for being both modern and practical. The educational system in New Zealand is based on the renowned British system.
United Kingdom is home to one of the world's most renowned higher education systems, with some of the world's greatest universities. In the United Kingdom, you can study almost every subject you can think of at the diploma, undergraduate, masters or doctoral level.
There is no doubt that the USA education system is the best in the world. It is the safest country to study. An Indian student can be successful in the United States because of a mix of opportunity, economy, and culture. With over 4000 world-class colleges, the United States offers diverse academic degrees and courses.

I had an excellent experience Sarika ma'am helped alot The process was very smooth I highly recommend them

Jaspreet Singh Oberoi
Facebook
The team is very supporting & guides the candidates to best course suiting his aptitude . The experience was very fruitful.

I filed my student visa through Edulaunchers a couple of months back. The process has been really smooth and transparent under guidance of Sarika mam and Megha mam at the Mohali office.
I am satisfied with their services and do recommend to others as well.

The decision of studying abroad is always a big one, and finding the correct mentor is nothing less than a miracle. Sarika and team was always available and her vast knowledge and experience helped me complete my process very smoothly. The best part was the whole process was very personalized, regarding the University selection, courses, finances. Special mention: Thank you Sarika for helping me with my IELTS exam. I recommend Edulaunchers for everyone who is planning to study abroad. Thank you.

Prashant Godhwani
Facebook
My experience with the lead counsellor - Sarika, has been amazing. She helped me with the applications, preparing for the VI, and what follows very religiously. On time calls for mocks, help on everything ranging from University selection across the globe to help on housing and travel after visa. Would 100% recommend!!

The whole experience with Edulaunchers has been just superb! Sarika's support has been nothing short of amazing. She made sure that she was available all the time no matter what the situation was. Her humble nature is beyond praise. She guided me in correct direction; from my course selection to selection of universities to other possible great career options. I really thank Sarika and her team for all the efforts.

First, of a fall, I want to thank Sarika ma'am for the wonderful job she did. I was super confused with my SOP work, and she helped me in every way possible. She's so accommodating that I made her rewrite and revise my statement 5-7 times and she did it with full enthusiasm. Besides writing the letter she'll also advise you about what's best for you and what should be done in case you got into some trouble regarding your application or regarding universities. Ma'am is resilient, witty, intuitive, and creative, she's kinda all in one. I'll recommend everyone who's in trouble with their application process should definitely reach out to her and I absolutely know she'll help you in every way possible. Once again, thank you, ma'am!

Every step of the way, right from the begining till the very end i was guided and helped by the most amazing, kind, selfless and extremely hardworking team lead by Ms. Sarika Dubey to reach my goal in getting into the colleges i dreamt of. I could'nt possibly describe how cared for and safe i felt under them, knowing that all the right decisions made were backed by their vast experience and authenticity. Sarika aunty was my backbone for this past year, she researches eveything you'll ever need to know and leaves no stone unturned. I would not have ever known my options for the choice of colleges without her. Aunty sarika gives her all and its extremely worth every second. The hours she puts in leaves me flabbergasted. I'm forever indebted to you and your awesome team, you showed me paths i didnt realise i cud tred. THANK YOU from the bottom of my soul. Forever. Aarav

I am very glad to share my experience with Edulaunchers. I'm pleased to have come across Sarika ma'am for my international education process, the application process can be a very daunting process but Sarika Maam's constant support through out my journey helped me reach my goal. She goes above and beyond for her students and is literally always a call away at any given time which is remarkable. I have had a long journey with her and can say it without doubt that she is the best in what she does be it her impeccable SOP, Essay or the application it's seamless. I'm very grateful to her for making my dream come true and helping me reach my objective. On top of that she is an extremely hardworking, knowledgeable, polite and a very warm person. I highly recommend her.

Gagan Deep (Brother of Tanvir kaur)
Google
The whole experience with Edulaunchers has been just superb! Sarika's support throughout my sister's visa application has been nothing short of amazing. She made sure that she was available all the time no matter what the situation was. Her humble nature is beyond praise. Thank you for all your support.

These guys are really amazing they helped me in my whole procedure of Australia from the beginning and the counsellor are really very helpful .... thank you so much edulaunchers

After a lot of research i finally decided to visit Edulaunchers. They are incredibly responsive to any inquiries my son had for his course. Totally satisfied with the services we received.

One of the best visa consultancies in mohali..I got my visa within a month under their excellent team work.Thank you so much

Dr. Sandeep Jassal (LiveLifeMore Health)
Google
We are so lucky that we reached out to Edulaunchers, the process was made so smooth by Sarika mam and her consistent help at each and every step. There were numerous options around us but the personal attention and care we got here made us confident that we will be sailing smooth...I strongly recommend Edulaunchers and Sarika mam.! May God bless the entire team..!

Siddharth Bhuptani
Glassdoor
Amazing service! Very helpful! It was good to have them by my side while the application process.

I would like to thank Sarika ma'am for taking the time to speak with me. I sincerely appreciate the time you spent reviewing my file and goals, guiding and recommending strategies for achieving them. Your advice was very helpful and gave me a new perspective on available opportunities. You are a true example for selfless leader , who aims at achieving students goals with all the experience you have from last so many years. In my entire journey of looking for a bestest consultant for my Visa , I came across you, who won my trust and faith in terms of perfect SOP for my visa success. I will always stay in touch with you , you are a gem of person with selfless love for her students?

Very satisfied with the services. I was associated with Sarika and she is knowledgeable about the subject and the process and experienced. She was of a great help to guide us on each and every step of the application process, selection of colleges, suggested alternatives at every stage and more importantly was approachable for us as parents and to my daughter. Very positive, enthusiastic and caring. Overall very glad we got this reference.

Sarika ma'am has helped me navigate my US VISA process with utmost patience!
Trust-Pilot
With her expertise and constant guidance , I have been able to navigate through my I-20, DS-160 and VISA appointment process with a breeze for University of Texas at Austin. Being a resident of Amritsar, I am glad to have opted for Edulaunchers Mohali - would recommend 10/10!

Being a first-time student with international applications, I am glad to have chosen Sarika Dubey with EduLaunchers as my go-to counselor.
Trust-Pilot
From personal calls every now and then to staying up more than half a night to complete applications, prep me for a video interview, work together on multiple essays and guide me along the way, I never found myself in the need to do a single task myself. The assurance of knowing that all the answers to my questions were just one call away was a deal-breaker for me. The best part is that the assistance and guidance doesn't stop even after the applications are closed and decisions are received! As a student of EduLaunchers, one builds a relationship for life and can always come back for help. I can't thank the team enough. Thank you Ms. Sarika and EduLaunchers for making this journey as smooth as possible for me and going out of bounds to ensure successful results!

My son Aryan Jigyasu had the privilege of receiving career counselling from Mrs. Sarika Dubey from Edulaunchers; based in Chandigarh.
Trust-Pilot
When we met Sarika for the first time in November 2018 as concerned parents, she made us aware about very important considerations that are crucial for selecting right career for our son based on his aptitude and temperament. With her advise she helped in removing our basic misconceptions regarding the choice of professional career. Thereafter for next couple of months, she very caringly and patiently regularly coached our son to prepare him for entrance exams in the field of medicine, while also bringing forward various related options. All thanks to her invaluable advise, by July 2019, our son successfully secured admission for a graduate course in Physiotherapy at MAHSA a reputed university in Kuala Lumpur, Malaysia. After nearly a year since he started his studies, we are fully convinced that this is just the right kind of professional choice for him. We are eternally grateful to Sarika for all her efforts that will immensely help Aryan make a successful career and a bright for himself.