Embarking on an educational journey abroad is a significant decision for Indian students, and recent changes in study visa rules have brought about exciting developments in Australia and Canada. These changes have the potential to shape the lives of Indian students, both currently studying in these countries and those aspiring to pursue education there. In this article, we will explore the latest updates in study visa requirements introduced by the Australian and Canadian governments, highlighting their importance and the transformative impact they can have on the lives of Indian students.
Australia's Study Visa Updates:
Australia, renowned for its world-class education system, has implemented several changes that present new opportunities for Indian students seeking to study full-time in the country.
On July 20, 2020, the Australian government announced additional initiatives to support and accommodate international students. According to Australian Immigration Minister Alan Tudge, these changes include the opening of borders for student visas from all foreign countries, concessions for post-work-study visas (Temporary Graduate Visa – Subclass 485), acceptance of online courses as part of the Australian Study Requirement, free extensions of student visas for those unable to complete their courses within the visa validity, and extended deadlines for submitting documents to the Australian government. The Australian government has also put in place programmes to help foreign students financially, such as providing them with access to superannuation funds and housing protection. In conclusion,
Post-Study Work Visa Relaxations: One of the significant changes is the relaxation in the post-study work visa, known as the Temporary Graduate Visa (Subclass 485). This visa allows students to work in Australia after completing their studies. Under the new rules, Bachelor's degree graduates can stay for four years (up from two years), Master's degree graduates can stay for five years (up from three years), and doctoral graduates can stay for six years (up from four years).
Increased Student Visa Work Restrictions: Another change involves the re-introduction of student visa work restrictions. From July 1st, the work limit for primary and secondary student visa holders will be capped at 48 hours per fortnight, providing students with increased opportunities to work alongside their studies.
Mobility Arrangement for Talented Early Professionals Scheme (MATES): Indian students pursuing courses in Australia can now apply to work in the country without visa sponsorship for up to eight years under the MATES scheme. This initiative aims to attract talented individuals and provide them with an extended period to contribute their skills to the Australian workforce.
The Subclass-500 visa, designed specifically for international students, allows them to stay in Australia for the duration of their course. This visa provides a range of benefits, including participation in eligible courses, the flexibility to travel in and out of Australia, the ability to work up to 40 hours every two-week period, and additional work hours in certain sectors. To apply for this visa, Indian students must provide various documents such as identity proofs, confirmation of enrollment, letters of support, evidence of sufficient funds, health cover, and meet English language requirements
Canada's Study Visa Updates: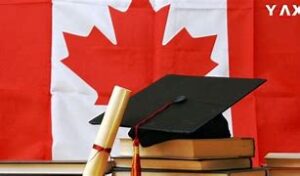 Canada, known for its multicultural society and renowned educational institutions, has also introduced significant changes in its study visa rules, offering several benefits for Indian students.
One notable change is the flexibility provided for online studies. International students can now complete part of their studies online without jeopardizing their eligibility to apply for the Post-Graduation Work Permit (PGWP). This flexibility allows students to gain valuable work experience in Canada for up to three years, providing a pathway to permanent residency.
In conclusion:
Flexibility for Online Studies: To adapt to the changing educational landscape, Canada now allows international students to complete part of their studies online without affecting their eligibility to apply for the Post-Graduation Work Permit (PGWP). This flexibility enables students to gain valuable work experience in Canada for up to three years, an essential requirement for applying for permanent residency.
Work Permit Exemption for Foreign Workers: Under a temporary public policy, foreign workers in Canada are exempted from study permit requirements for up to three years while they work in the country. This policy allows individuals to pursue education without the need for a study permit, facilitating their professional and academic growth simultaneously.
Importance of the Changes for Indian Students:
These changes in study visa rules hold immense importance for Indian students, significantly impacting their educational and professional journeys. Let's delve into the key reasons why these changes are crucial and how they can transform the lives of Indian students:
Enhanced Career Opportunities: The relaxed post-study work visa regulations in Australia and Canada offer Indian students extended periods to gain valuable work experience in their respective fields. This experience not only strengthens their resumes but also increases their chances of securing employment opportunities and contributes to long-term career growth.
Pathways to Permanent Residency: The opportunities provided by the study visa changes create viable pathways for Indian students to explore options for permanent residency in Australia and Canada. By obtaining valuable work experience and meeting specific eligibility criteria, students can potentially transition from temporary visas to permanent residency, offering a stable and prosperous future.
Cultural and Global Exposure: Studying in Australia and Canada exposes Indian students to diverse cultures, perspectives, and educational systems. These experiences foster personal growth, intercultural understanding, and the development of a global mindset, which are invaluable in an interconnected world.
Academic Excellence: Both Australia and Canada are known for their high-quality education systems. Indian students benefit from exposure to cutting-edge research, industry-relevant curriculum, and access to state-of-the-art facilities. This enables them to acquire knowledge and skills that are highly sought after in the global job market.
Adapting to the Changes:
To make the most of these changes, Indian students can take certain steps to ensure a smooth transition:
Stay Informed: Regularly check official government websites, education portals, and consult with educational advisors to stay updated on the latest changes in study visa rules, eligibility criteria, and application processes.
Plan Ahead: Considering the extended post-study work opportunities, students can strategically plan their education and career pathways. Research courses and universities that align with their long-term goals and explore options for internships, co-op programs, or research projects to gain practical experience.
Seek Guidance: Engage with education consultants or seek advice from alumni or current students studying in Australia or Canada to gain insights and guidance on the study visa process, accommodation, healthcare, and other support services.
Prepare Financially: Understand the financial requirements for studying abroad, including tuition fees, living expenses, and proof of funds. Adequate financial planning and securing scholarships or grants can alleviate financial burdens.
Conclusion:
The recent changes in study visa rules for Indian students in Australia and Canada present exciting prospects and opportunities. By embracing these changes, Indian students can pursue their educational aspirations, gain valuable international experience, and pave the way for a successful future. It is essential for students to stay informed, plan effectively, and seek guidance to make the most of these transformative changes and embark on a fulfilling educational journey abroad.